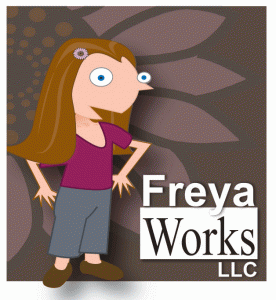 FreyaWorks, LLC was the brainchild of Freya 15 years ago when she struck out on her own.  Initially, it was only intended to be a temporary solution to an organization asking her to come in as an interim marketing director. Once bitten by the entrepreneurial bug, Freya decided to make a go of the business and FreyaWorks moved beyond a one person show.  Today, FreyaWorks LLC is the business arm of Freya Lustie.  Primarily focusing on bringing solutions to companies who need a team, FreyaWorks employs a small cadre of subcontractors to fit the needs of project based work.  Freya is typically involved in the initial consultation and scope of work development for each project.  However, depending on the needs or the client, she heartily believes in the principal of hiring people smarter and more talented in areas outside of her expertise. So if her particular skill set is not relevant to a project, then her team will spearhead and implement.
FreyaWorks, LLC is a women owned and run company. Our rock star team spans the country from coast to coast. We bring together best practices to develop business strategy and process development for businesses of all sizes. Our dream and desire is to have people enjoy their lives to the fullest – whether that's putting on a three piece suit and spending days in an office, or finding their stretchiest outfit and teaching others to move their body.  Where you spend your time matters and we outfit individuals and companies to make the most of this precious commodity.
FreyaWorks is committed to ensuring that your business strategy, organizational set-up, team development and business development are the best that they can be. Working with the best, the brightest, and the most inventive, FreyaWorks brings experience, passion and a unique perspective to a variety of companies.  FreyaWorks brings together a fantastic network of people for each project, pairing creative talents with the appropriate companies.  FreyaWorks wants to ensure that business efforts are not only successful but interesting, encouraging and exciting.
Our vision is to become the most respected, sought after consulting firm in the marketing arena continuing to grow and expand while bringing together the most creative, fun and  hardworking people for every project.
Our business is set up as a consulting firm, bringing together necessary talents for each unique project.  To offset the high costs of employees, FreyaWorks maintains only one full-time employee and subcontracts or out-sources all activities that cannot be handled in-house.  FreyaWorks only works with proven subcontractors who have successfully completed past projects.
FreyaWorks operates under the following principles:
Honesty
Integrity
Friendliness
Guiding Principles:
We follow the golden rule. We care about you and we care about ourselves.  Meaning – we take care of both.  Dysfunction at our end is not going to result in results for you.
Service design and customer experience should intersect with your passion to create product and services that matter both to you and to them.
Sixth sense and gut checks are paramount. The idea is not to go with "what makes the most sense" or is "practical" or "responsible", but to check in with your core values at every turn of the road.
There is always a path forward. It may be hidden, it may look rocky and it may seem to stretch out endlessly – but…there is always a path forward.  We will help you to find that hidden path, to smooth the rocks away and to give you something to look forward to at the end of a journey.  We don't know everything.  YOU know far more than you realize…and if together we get stuck, we bring in amazing people that show us new paths.
FreyaWorks